About this episode
Over the last month, we've interviewed four fascinating guests on Built to Sell Radio.
John Warrillow shares the transferable lessons with you on Built to Sell Intel, a monthly live webinar hosted for our listeners.
Dr. Jeremy Weisz hosts this Q&A. John is in the hot seat as Dr. J asks for his take on four successful exits.
In this fast-paced, 60-minute session, we'll be discussing:
How Jim Estill created ShipperBee – an Uber for packages – grew it to 150 employees and exited, all in three years.
How serial entrepreneur Darrell Lerner applied his success in the dating app business to revolutionize pet adoption.
Andrew Gazdecki's life-changing cold email to Apple's Tim Cook.
James Prebble's story of using digital due diligence to discover hidden "Rembrandts in the attic."
If you were able to join us live, we answered as many questions as possible.
If you'd like to participate next time, please email [email protected] and we'll contact you when registration begins.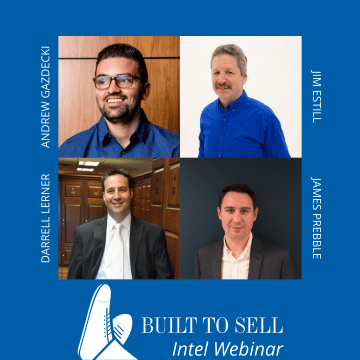 About Our Guest
Guest Host:
Dr. Jeremy Weisz, Rise25, LLC
Featured Interviews:
Jim Estill, ShipperBee