About this episode
Chris Muench started C-Labs in 2008 to go after the burgeoning opportunities presented by the Internet-of-Things (IOT).
He began by writing custom software applications that allowed one machine to talk to another. In 2014, he got the industrial giant TRUMPF International (no, not Trump) to acquire 30% of C-Labs, which gave him the cash to transform his service offering into a product.
By the end of 2016, Muench's product was showing early signs of gaining traction, but C-Labs was running out of money. Muench calculated they would be broke by mid 2017. Muench decided the best outcome would be for TRUMPF to acquire the 70% of the company they didn't already own, but how could he get a fair price for what he had built when TRUMPF knew just how desperate his situation had become?
In the end TRUMPF acquired C-Labs in a seven-figure deal that could stretch to eight figures if Muench is successful in hitting his future targets. In this episode, you'll learn:
How to manufacture negotiating leverage when you're desperate
How to use a Build vs. Buy calculation in valuing your business
The definition of IOT
The secret for shifting from a service company to a product
A surprisingly original tactic for hiring C-level talent
How to protect your IP when doing custom projects
Would you like to transform a service business into a product like Muench did? It starts by identifying one service that could scale into a product, which is something you'll do when you complete The Scalability Trifecta, Module 2 of The Value Builder System™—get started for free by completing Module 1 here.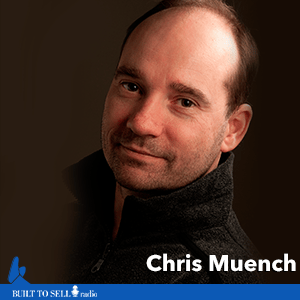 About Our Guest
Chris Muench is the President and Chief Executive Office at C-Labs, which he founded in 2009 and focuses on Solutions for the Internet of Things. He brings twenty-five years of industrial automation software development experience and passion together in C-Labs to deliver exceptional solutions for today's modern factory automation environment. Chris has delivered solutions while working at Siemens Energy and Automation and at Microsoft. He has technical expertise in Windows Embedded, Cloud- and Mobile Computing, Natural User Interface (NUI) and Experience (UX), and advanced communication protocols including OPC. His credentials include a Bachelor in Data Technology and he has been a Microsoft MVP for ten years.