About this episode
Chemco Industries' customers included Walmart, eBay, and Amazon, which is one reason they were so irresistible to an acquirer.
In 1961, Kamal Yadav arrived in the United States with $15 in his pocket.  He started Chemco Industries in 1975 and grew the business to $3M in revenue. Chemco sells environmentally-friendly cleaning chemicals, and Kamal's customers included Walmart, eBay, Amazon, and the federal government.
When his children didn't express interest in taking over the business, Kamal decided to sell.  He hired Certified Value Builder™ Steve Denny of Innovative Business Advisors to help, and they quickly received 14 offers.
Yadav sold Chemco for $3.2M cash upon closing.
In this episode, you'll learn:
How projecting future profits can increase acquisition offers
What Yadav did to shift from a lifestyle business to a growth-oriented business
The importance of owning the product, rather than just distributing other people's products
The role recurring revenue plays in the valuation of a company
How to get an all-cash offer for your business and avoid an earn out or vendor take-back
Yadav's contracts with the U.S. Federal Government created a stable recurring revenue stream that attracted acquirers. Wondering what your recurring revenue stream could be? You'll find out when you complete the Automatic Customer Builder tool, the foundation of Module 5 of The Value Builder System™. Begin by completing Module 1 for free right now.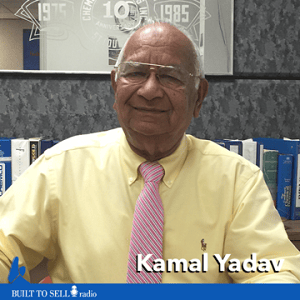 About Our Guest
Kamal "Doc" Yadav was the president/CEO of Chemco Industries, Inc., a 43-year-old green, industrial cleaning chemical manufacturing company based in St. Louis, MO. Doc came here from India with a bachelor's degree in 1961. After receiving his Master's and Doctorate (Ph.D.) degrees in chemistry from University of Missouri, he joined a chemical company in St. Louis as a research chemist. After 8 years, Doc got laid off, which is when he founded Chemco with $5,000 of his own money and expanded the business into a multi-million dollar corporation. He sold Chemco Industries, Inc. in September of 2017 for the total price of $3.2M.