About this episode
How do you place a fair valuation on your company when one partner wants out while the other is ready to continue?
How do you place a fair valuation on your company when only one partner wants out, and the other is ready to continue? The answer – for Judith Nowlin and her partner Amanda – wasn't a matter of calculating how far they've come, but rather how far they would go.
Nowlin, co-founder of iBirth™, a daily pregnancy, postpartum and baby tracker app, found herself in a complex situation when her co-founder and good friend was ready to step down from the business.
While most would be left perturbed, for Nowlin, it pushed her to evaluate the company's potential valuation and helped lay the foundation of transforming iBirth™ toward a B2B model with a stream of recurring revenue — and ultimately finding a strategic buyer to acquire the business.
In this episode, you'll learn:
How to handle a business partner who wants out – and ways you can keep them as an investor and advisor
The difference between a financial buyer and strategic buyer, and how to approach the latter
How a recurring revenue stream can transform your business
One easy way to determine if your B2C business can evolve into a B2B model
iBirth™ improved its value by creating a stream recurring revenue, which Nowlin claims to be the key to its success. How could your company implement recurring revenue? Module 5 of The Value Builder System™ explores the Automatic Customer Builder. To discover your business' potential, take the Value Builder Score.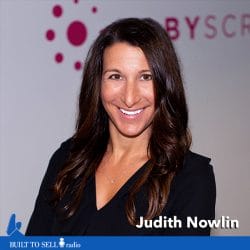 About Our Guest
Judith Nowlin founded iBirth™ in 2009 as a mobile daily care companion for pregnancy, birth and postpartum. The original idea for the app was born out of Judith's prior decade of boots-on-the-ground service in maternity care as a healthcare educator, birth doula and postpartum doula.n addition to designing, building and marketing the iBirth product in the emerging DTC and B2B digital healthcare sector, Judith has co-directed maternity skills trainings for refugee and immigrant women in Denver, was awarded the distinguished 40 Under Forty recognition in Boulder Valley