About this episode
Rob Walling started an email service provider named Drip back in 2012. Walling bootstrapped his growth to almost $2 million in Annual Recurring Revenue (ARR) when, in 2015, Clay Collins, the founder of Leadpages, came knocking. Given their growth, Walling was hoping for an offer in the range of 9-14 times revenue, but Collins was unwilling to go that high. Even publicly traded Software-as-a-Service companies were not trading that high. Talks broke down until Walling launched a brand-new feature that captured Collins's imagination and re-ignited talks. Weeks later, the two founders finally agreed on a price.
This episode is jam-packed with insight for the aspiring value builder, including:
Watch Your Churn: Your churn rate fuels (or holds back) your recurring revenue model. Walling managed to get his net churn rate down below zero thanks to sticky customers who paid more for Drip as they expanded their email list.
You Are "Risk On": The larger your company gets, the more you risk. As his business approached $2 million in ARR, Walling realized how much his company might be worth. He became less comfortable with how much of his net worth was tied to one stock. When you get to the point your business is an outsized portion of your net worth, consider if now is the right time to sell.
Control Your Earn-out: Most of Walling's proceeds from the acquisition were paid in cash, but there was a part of his deal that was tied to an earn-out. Walling had heard earn-out horror stories, so was eager to avoid a target linked to revenue or profitability, which can be challenging to control as a large company's division. Instead, he got Leadpages to tie his earn-out to the launch of software features that Walling felt confident he could deliver based on the resources he already had at hand.
There's lots more to learn from Walling, including:
Using an offer from a PE firm as a dispensable pawn to get what you want from a strategic acquirer.
The definition of an escrow and how it differs from an earn-out.
The telltale sign you may be over-playing your hand and a sure-fire way to you're your deal is about to crater.
The big thing Walling would do differently next time around.
Walling sold in part because he wanted to feel the freedom of never having to work again. Figure out the number that would give you a sense of independence by completing the PREScore™ questionnaire.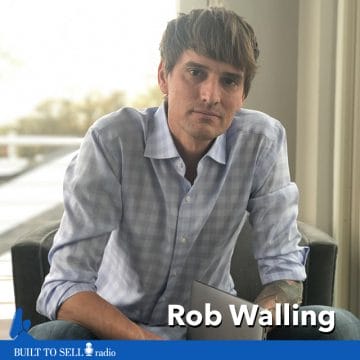 About Our Guest
Rob Walling is a serial entrepreneur who has bootstrapped and sold multiple SaaS startups. He runs the first startup accelerator for SaaS bootstrappers, called TinySeed. Rob has invested in more than 35 startups and wrote one of the foundational books on bootstrapping startups, Start Small, Stay Small.
In addition, his podcast Startups for the Rest of Us has been running for a decade and now has more than 500 episodes and 10 million downloads. Rob has been quoted in dozens of major publications, including: The Wall Street Journal, Forbes, Entrepreneur, and Inc. Magazine.
@robwalling on Twitter
https://www.linkedin.com/in/robwalling/