About this episode
Jack Rivlin co-founded The Tab, a U.K. based media company that published digital campus newspapers across the U.K.
After ten years, The Tab had earned almost 6 million unique visitors and raised $10 million of capital from the likes of investors, including Rupert Murdoch's News Corp. Things were looking up for The Tab, but when an attempt to crack the U.S. market failed, things started to unravel.
Wounded and tired from his failed foray into the U.S. market, Rivlin decided it was time to get out. He put the business up for sale and agreed to an acquisition offer of $2 million only to find out the buyer couldn't come up with the cash. He then received an offer from News Corp for around $1.3 million only to have it rescinded as the pandemic was announced in March of 2020.
Eventually, Rivlin agreed to sell The Tab for $1 million — most of which was distributed to his shareholders. The experience left Rivlin wiser about the M&A process, and in this surprisingly candid interview, Rivlin shares:
How to ensure your acquirer has the money to close.
The telltale sign your acquirer is scrambling to find financing.
What it's like to meet Rupert Murdoch.
What is meant by "warranty risk" (and why you need to be paid to shoulder it).
What "Death Spiral Financing" is.
What a "split exchange completion" is and why you should consider it a risk.
How to use a deposit to protect yourself from a shady buyer.
The most crucial principle of negotiation.
Why you should never reveal who the other bidders are for your business.
Why owning a big slice of a small company is better than owning a small portion of a big company.
Why it's better to "travel than arrive."
Rivlin's ill-fated attempt to crack the U.S. market was compromised when Facebook, The Tab's primary traffic source, changed their algorithm, diverting much of The Tab's audience. An over-dependence on a single supplier will undermine your score on The Switzerland Structure, one of eight drivers of your company's value. To discover how your business performs on all eight factors, get your Value Builder Score.
Jack Rivlin's blog post outlining the sale of The Tab – "Lessons from a gruelling two years selling my company."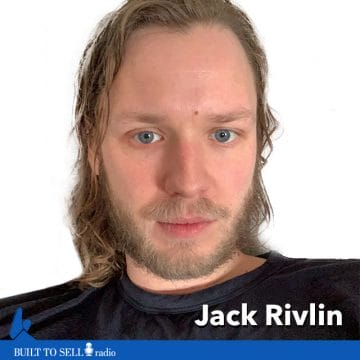 About Our Guest
Jack Rivlin is the founder and former CEO of The Tab, a youth publisher with an audience of millions.
After founding the business at university, Jack launched The Tab across the UK and US and it is now a household name in the UK. The company raised $10 million from investors including Rupert Murdoch but ultimately failed to build a successful business. Last year he sold the company for $1 million and has written a candid account of the sale online. Twitter handle: @jackrivlin