About this episode
Henry Hyder-Smith and Steve Denner started UK-based Adestra in 2004. Adestra is a digital marketing software that helps big companies handle email campaigns, among other things.
The company grew nicely. By 2016, it had around $9 million in revenue and a client list that featured some of the U.K.'s best companies. Hyder-Smith and Denner decided it was time to go beyond their borders and enter the U.S. and Asian markets. To fund the effort, they raised $7.2 million from the Business Growth Fund (BGF), one of the U.K.'s largest private equity groups. BGF's investment valued Adestra at around $35 million — a little shy of four times revenue.
BGF's investment was contingent on the inclusion of a "key man clause." It stipulated that if they were going to invest in Adestra, the company would be required to make board member Matt McGowan its president. At the time, McGowan was employed full-time by Google as their head of strategy on the YouTube brand. McGowan had helped other companies go global before. The BGF folks thought he was one of the keys to fulfilling Adestra's aspirations.
McGowan hesitated to give up his senior position at one of the world's biggest companies but was enticed by the opportunity to own a piece of a promising young company. He joined Adestra as President and shareholder, and within two years, doubled the company to approximately $18 million. Then in December 2018, Adestra was acquired by Upland Software for $61 million.
Suppose you have considered bringing in a professional manager to help run your company. In that case, you'll take away a lot from McGowan's perspective, including:
How to structure an incentive plan for a President that aligns with your goals as a founder.
How to minimize the conflict between a founder and a hired gun.
Why customer concentration at Adestra almost turned McGowan away.
How to evaluate the seriousness of a Letter of Intent.
Hiring a president is a great way to improve your score on something we call "Hub & Spoke," which reflects your company's dependency on you. Find out how you're performing on all eight drivers of your company's value by completing the Value Builder questionnaire.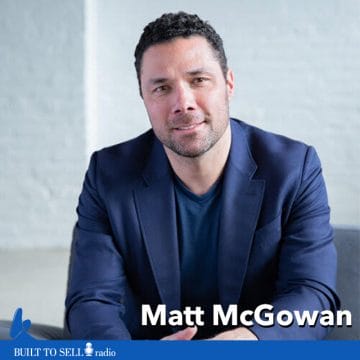 About Our Guest
A born and bred New Yorker turned Torontonian; Matt has lived on 3 continents, worked alongside many of the world's best-known and thousands of lesser-known corporations including; brands, agencies, and technology companies.
Matt is the Director and General Manager of Snapchat, Canada; the camera company that owns Snap Inc., Spectacles, Toronto based Bitmoji, and Zenly.
Currently, Matt sits on several boards for tech, media, marketing and advertising, including; Strawberry Frog, Banff World Media Festival, as well as for CPA Ontario. Previously, Matt served as President and a member of the Board of Directors at the SaaS juggernaut Adestra; an enterprise martech Email Service Provider and Marketing Automation Platform. Adestra was acquired by Upland Software in Dec 2018. Prior to Adestra, Matt focused on expanding Google and YouTube's leadership in the advertising and marketing space.
Matt has an MBA from the University of Oxford, a BA from Lafayette College, and is also a husband, parent, adviser, board member, shareholder, LP, mentor, and volunteer. Twitter: www.twitter.com/matt_mcgowan