About this episode
Along with three friends, Sebastian Johnston co-founded TheAmazeApp in 2014. The idea was based on a simple idea. Social media influencers could upload a picture of what they were wearing and tag the clothing on TheAmazeApp's database of e-commerce retailers. Then, when one of their followers purchased the item, TheAmazeApp would receive a commission they shared with the influencer.
The founding team raised $800,000 through the San Francisco-based accelerator 500 Startups. By leveraging their influencers to drive traffic, TheAmazeApp quickly grew to 4 million active users per month. Eight months later, TheAmazeApp was acquired by Zalando, one of Europe's largest fashion wholesalers.
There's a ton to enjoy in this episode, including:
How the "traffic arbitrage" business model works.
How to get developers to accept shares instead of cash for their work.
How an acqui-hire works.
Why you should never reveal the names of the other bidders for your company.
How Johnston kept a poker face throughout the negotiation despite running short of cash while the acquirer dealt with an internal issue.
The surprising role humility, yoga, and meditation played in getting a deal done.
Check out the written by Colin Morgan on Lessons From The Happiest Founders.
Curious about what your company might be worth? Start with a Built to Sell Valuation.
Show Notes & Links
(01:57) John Warrillow: "He is currently the founder of VIVERE. He's an advisory board member at Bunting. He's a mentor at the Founder Institute. He's a mentor at Axcel Springer. He's the founder of Hey Honey yoga wear. It goes on and on. Founding investor at Foodora, among others. A mentor and a coach. Just incredible entrepreneur."
(06:34) Sebastian Johnston: "That's called look-based shopping, meaning the curation is being done by an app or by an influencer."
(10:40) Sebastian Johnston: "The picture Shoppable, there was so to say, only one comparable model, but it was not mobile, it was desktop, called AsSeenOnScreen."
(22:38) John Warrillow: "Zalando. So this is the ultimate acquirer?"
(29:46) John Warrillow: "We refer to it as the Switzerland structure at Value Builder where it's like a dependence on a single customer, employer, supplier. In your case, it was a supplier."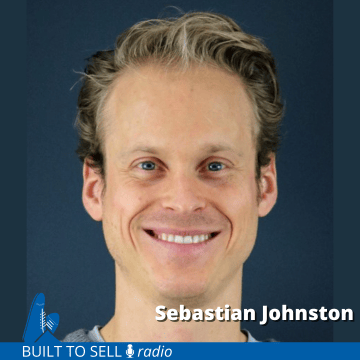 About Our Guest
Sebastian Johnston is the founder and CEO of VIVERE, a new generation consumer brands platform driven by consumer desires, data, and sustainability. VIVERE, founded in 2017, uses data and technology to create brands and products that are valuable to the modern consumer and sustainable with natural ingredients. Before VIVERE, Sebastian founded several companies in the fields of D2C, social, mobile, VC, marketplace, SaaS, and e-commerce. He is also a board member for several German Corporations and start-ups.
During his studies at WHU in 2004, Johnston immersed himself in the professional and start-up world. He was one of the first employees of StudiVZ, worked at BBDO as a strategy consultant, and was instrumental in the digital development of the brands of the Condé Nast publishing house. In 2008 and 2011, he founded his first start-up companies (e.g., Regiondo, a B2B Software for ticketing in the leisure industry, which was eventually taken over by Pro7/Sat.1; Amaze, Foodora).  He also worked as a consultant in the digital, mobile, and e-commerce sectors and is VC and investor in several successful start-ups, such as ArtNight, BuildingRadar, Asana Rebel, Parcellab, and many more.
He acts as a mentor and coach for the accelerator Techfounders, which brings technology start-ups together with corporate partners and potential VCs. Sebastian also serves as a mentor for the Founder Institute, Plug and Play, and Wayra. His expertise in the area of entrepreneurship and investment flowed into the founding of the VC La Famiglia in 2014. In 2014, he founded the fashion commerce company TheAmazeApp, which was acquired by Zalando. Since 2016 he has been a co-founder of the yoga fashion label Hey Honey.
Connect with Sebastian: