About this episode
Cary Moretti is the founder of NewSportMedia, an IT consulting company that does work with sports leagues. Along the way, Moretti created a software application called LeagueStat. The app helped hockey leagues like the AHL and CHL provide fans, journalists, parents, and scouts with real-time statistics on their favorite teams.
NewSportMedia grew to 27 employees, but Moretti was conflicted. The professional service side of his business required a different model than the software app that he had built. He knew that if LeagueStat were to reach its potential, he would need a deep-pocketed investor or a new home with a company that could invest in the business. Moretti decided to carve LeagueStat out of NewSportMedia and sell it as an asset separate from his consulting company.
Moretti is a self-described "nerd" who loves to code but knew little about negotiating the sale of his business. In this episode, Moretti describes what he learned about selling a company with humor, candor and a heaping dose of humility.
You'll discover:
The pricing model that led Moretti to the brink of bankruptcy twice.
How Moretti fixed his business model.
The nuances of carving out a part of your business to sell.
What Moretti wishes he had known about selling a business.
Check out the written by Ryan Abbott on What Is My Business Worth?
Curious about what your company might be worth? Start with a Built to Sell Valuation.
Show Notes & Links
(05:47) Cary Moretti: "we did work with, for example, the Canadian Hockey League… then also you have the American Hockey League was probably our best client."
(10:10) Cary Moretti: "it essentially worked like this, one team became two, became three, became five, became 10. And at one point, I was getting very close to what I would call critical mass. So within a given league, if you have enough teams that are clients for a given service, you have a door opener there where you can approach the league itself. Literally, it was organic. So that's exactly what happened."
(15:46) Cary Moretti: "I don't think I spoke to anyone at the GTHL until I was basically approaching the era when I was selling to an acquirer. So I started pretty much at the top. I spoke with the American Hockey League. They're the league that is the feeder to the NHL, they're the affiliate of the NHL. The ECHL, again, similar to the AHL, they're affiliated with the NHL, the Canadian Hockey League. So a lot of people think that junior hockey in Canada is amateur, it's pretty much a pro sport. There's some cities where they'll watch the local junior hockey team, the major juniors, before they'll go to an NHL game. It's pretty hardcore here in Canada."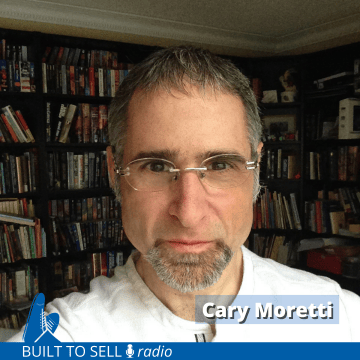 About Our Guest
Cary Moretti is a serial entrepreneur, innovator, and technology advisor. Cary built his first business at the age of 17 and has, through every iteration of his career, been passionate about helping clients adopt new technologies to drive positive innovation. Cary has created, financed, and led private companies in multiple verticals, including retail e-commerce, sports & entertainment, and healthcare.
Cary believes strongly that the future of work is remote and has lived that philosophy since 2002. In 2008, Cary built his first 100% remote organization and hasn't looked back since. Remote work has been key to Cary's success in sourcing – and keeping – the best employees, navigating major economic cycles, and pivoting to transform organizations – his own and his clients' – through year over year strategic growth.
Connect with Cary: