About this episode
In 2016, Jeremy Parker co-founded Swag.com to offer branded promotional products for businesses. Parker and his team developed a powerful online platform that enables customers to order products through their unforgettable website.
Thanks to Swag.com's innovative approach and memorable domain name, the company generated $30 million in revenue by 2020. However, when Parker began to explore acquisition offers, potential buyers viewed Swag.com as just a distribution company, which is typically valued in the low single digits of EBITDA.
Fortunately, Parker met the founder of Custom Ink, who recognized that Swag.com was more than just a traditional promotional products business – it was a technology company. Custom Ink made Parker a lucrative acquisition offer, and in this episode, you'll learn how to:
Prevent potential investors and acquirers from undervaluing your business.
Buy a seven-figure domain without paying up front.
Leverage a blue-chip client to attract dozens of new customers.
Secure funding without giving up a large portion of your equity.
Use a surprising customer feedback technique to improve your business.
Show Notes & Links
Want to Sponsor an Episode? Click Here
Today's episode is brought to you by Scribe Media.
Scribe Media is a hybrid book publishing company that specializes in helping founders, entrepreneurs, and executives write and publish their books. You can't meet with every person you want to reach, but with Scribe's help, your book can. We create and execute a plan to get your message to your ideal reader. Not a writer? No problem. Scribe Media's experts can write for you—in your voice. When it's time to sell your business, buyers will know who you are, what you stand for, and the legacy they'll inherit from the company you've built. Visit ScribeMedia.com to book your free consultation.

Definitions
Letter of Intent (LOI): A letter of intent (LOI) is a document declaring the preliminary commitment of one party to do business with another. The letter outlines the chief terms of a prospective deal. Commonly used in major business transactions, LOIs are similar in content to term sheets. One major difference between the two, though, is that LOIs are presented in letter formats, while term sheets are listicle in nature.
Source: https://bit.ly/3ppDnr3
Earn-out: Earnout or earn-out refers to a pricing structure in mergers and acquisitions where the sellers must "earn" part of the purchase price based on the performance of the business following the acquisition.
Source: https://en.wikipedia.org/wiki/Earnout
Due-Diligence: Due diligence is an investigation, audit, or review performed to confirm facts or details of a matter under consideration. In the financial world, due diligence requires an examination of financial records before entering into a proposed transaction with another party.
Source: https://bit.ly/3yYDfo5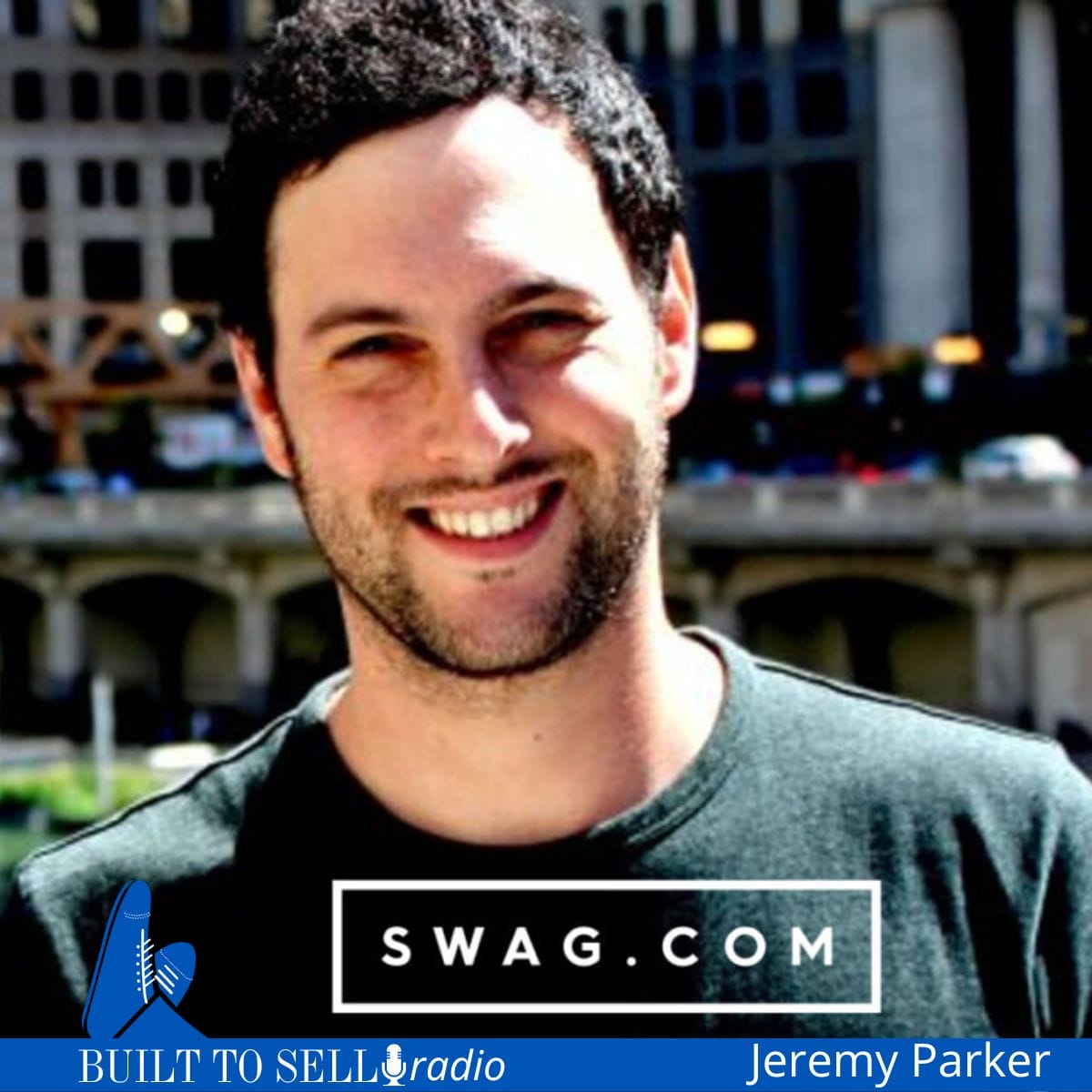 About Our Guest
Jeremy Parker
Jeremy Parker is a Boston University film production graduate (2007) and Vail Film Festival Audience Award winner for his documentary as a college junior. He founded a creative Promotional Product Division for MV Sport and later an e-commerce platform with his brother David and Jesse Itzler. Their platform, distributing promotion codes via social media, was acquired by a public company. Parker now serves as the CEO of Swag.com, which was acquired by Custom Ink in November 2021. Swag.com streamlines the process of purchasing and distributing high-quality swag for clients such as Google, Amazon, and Facebook. Parker was recognized by Crain's NY 40 under 40 (2020), and Swag.com was listed in Inc 500 as the fastest-growing private company (#218 in 2020 and #368 in 2021).
Do you want to nominate a guest to be on Built to Sell Radio? Click HERE.