About this episode
A few weeks ago, Shaun Oshman sold iSupportU, a Colorado-based IT support business. Oshman started the business at the age of 32 and knew he wanted to sell before his 40th birthday. As that milestone approached, Oshman started getting his business ready to sell.
To read a transcript of this episode, click here.
He started by focusing on selling recurring revenue services, like antivirus software, which offered their partners an annuity stream of revenue. Next, Oshman hired someone as head of business development to replace himself as the rainmaker. Finally, Oshman started to take one out of every six weeks off to see how the business would run when he was not in the office.
Since the business was running well without him, Oshman started marketing it for sale and, within three months, he had five solid offers. Oshman agreed to sell to one buyer with whom he felt a cultural fit. In this episode, you'll learn:
The definition of SDE and how to calculate it for your business.
How a vendor take back works.
The importance of bank financing for buyers and how to ensure your acquirer can get some.
What a vision board is and how to use one to get what you want.
How your ego can lower your company's value.
Two questions every employee will ask when you reveal you're selling (and how to answer them).
The surprising power of being vulnerable.
When Oshman was 30, he developed a vision board illustrating where he wanted to be by the age of 40. The board had a number of financial goals and a picture of Oshman living on a sailboat. As his 40th birthday approached, he knew he needed to sell his business and buy that boat to fulfill his vision.
What's your vision for a happy and fulfilled life? How does your business serve that goal? Those are two of a variety of questions you'll answer during The Vision Builder exercise, part of Module 1 of The Value Builder System™—get started now by completing your Value Builder questionnaire.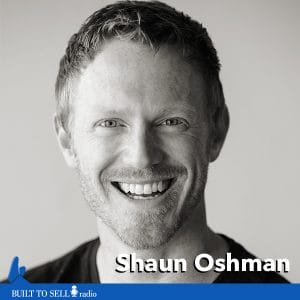 About Our Guest
Shaun has spent his career cultivating teams to do amazing things. He cultivated a team at YMCA Camp Ockanickon to develop and deliver the highest quality experiential education programs. While in NZ, he inspired the most fantastic group of 8 year olds to exceed their own expectations in the classroom. Today, he leads the team at iSupportU to provide the highest quality IT support and consulting. Through all of these endeavors, learning has been a common theme. In order to truly know 'how to learn', he finished a Masters in Education to prepare him to teach.