About this episode
Mehul Sheth started VMS Aircraft in 1995 with a plan to sell spare parts to airlines. Sheth had just $25,000 to invest in inventory, so VMS got off to a modest start. However, by 2016 Sheth had crested $8 million in revenue. VMS counted some of the largest airlines in the world as customers.
Sheth was hoping for 6-8 times EBITDA for his business, so when he got an offer of 7.4 times EBITDA from a French company looking to establish a beachhead in the United States, Sheth decided to sell.
There are lots to pull out of this edition of Built to Sell Radio, including how you can:
Improve your gross margins in a competitive industry.
Create recurring revenue streams through service contracts.
Ensure your employees follow your Standard Operating Procedures (grab our free ebook on creating SOPs here).
Attract acquirers who would typically turn their nose up at companies of your size.
Evaluate the authenticity of an acquirer.
Avoid re-trading after diligence identifies working capital discrepancies.
Increase your leverage in a negotiation to sell.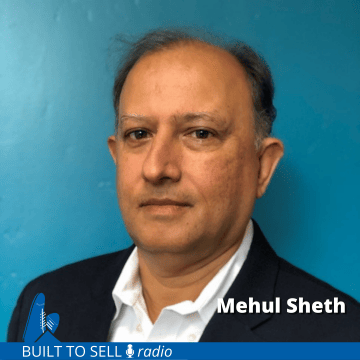 About Our Guest
Mehul Sheth started an aircraft and aerospace materials distribution operation from his parents basement and built it over 21 years and then sold the company to a 150 million dollar multinational corporation. Sheth developed every aspect of the operation including; Finance, Accounting, Shipping, Receiving, Re-packaging, Customer Service & the outside salesforce. Secured product lines with top manufacturers. Recognized in the industry as one of the top aerospace distributors. Signed and executed government contracts, major airline contracts as a small business, and a small disadvantaged business as identified by the SBA.
Check out his website: SmallBusinessHorsepower.com
Connect with Mehul:
[email protected]